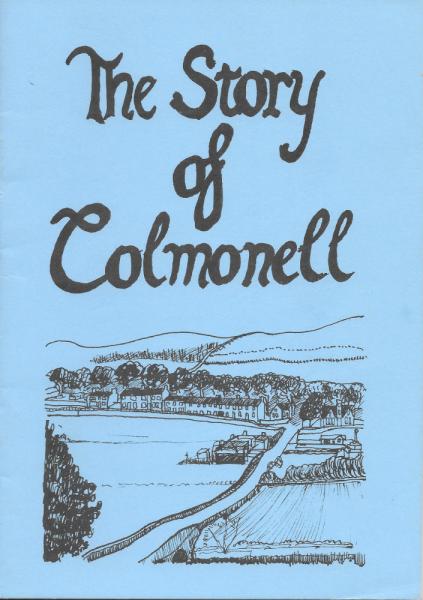 "A beauty in a beauteous dell
Serenely fair sits Colmonell"
For those who choose to explore the beautiful and peaceful south-west of Scotland – an area so often missed by those who head north on the notorious A74 – the rewards are great; uncrowded roads, pleasant river valleys, hills, lochs and many attractive villages, each with its own special character.
Such a village is Colmonell, in the Ayrshire district of Carrick, lying on the north bank of the River Stinchar and a few miles inland from where it flows into the sea at Ballantrae. The village itself sits high and dry upon two drums of glacial drift which were laid down by floating ice when this valley was flooded by the sea, after the Ice Age.
The Parish of Colmonell is believed to have acquired its name from the Cell (Church) which was dedicated to Saint Columba of Ella and called Kirk-Colmonella the name which it bore in the 12th and 13th Century, This name is also found in the Church and Parish of Kilcolmonel in the north of Kintyre.
Another suggestion is that Colmonell may be derived from the Latin word Columba – a dove or pigeon, as the woods surrounding the village to this day, abound with wood pigeons and turtle doves. An amusing story of recent origin, is told of an old tramp and his equally ancient horse which refused to go up the brae and was encouraged with a shout of 'Come on Nell!'
In the present glebe there is evidence of an early settlement – probably dating back to the time of the Picts – and this can be most clearly seen in times of drought, when the brown outline of the raised gravel banks contrast sharply with the remaining green grass. Over the centuries the village grew from a cluster of huts around the church, castles at Craigneil and Kirkhill were built and as the population increased the village extended down the hill. By the end of the 18th Century the dwellings were mainly stone built in typical but and ben style with thatched roofs. Now it is a conservation village with many of the old houses attractively modernised.
In time past there was a belief that few places in Ayrshire or in south-west Scotland had air milder or more wholesome that the village of Colmonell. About 100 years ago it was noted that the inhabitants were not only long lived but retained their good health into a ripe old age. Many lived upwards of 80 years – a woman of 98 years was reputed to have reaped corn and a man of 90 years mowed hay! In case you are thinking of retiring to Colmonell, perhaps you should know that in certain atmospheric conditions a freezing fog lies along the valley which shaves the face as the edge of a blunt razor – it was called 'The Barber' by the villagers long ago!